DUE TO A PREPONDERANCE OF QUESTIONS BEGINNING WITH "IS THIS BITOSSI?" PLEASE BE ADVISED THAT I WILL NO LONGER BE RESPONDING TO QUESTIONS PERTAINING TO BITOSSI CERAMICS. PLEASE REFERENCE MY ARTICLE ON THE COMPANY FOR ANY IDENTIFICATION HELP. SEE LINK BELOW:
bitossi-marks-t19.html
THANK YOU
For the Bitossi family the artistic ceramics created for them under the Bitossi label has always been little more than an interesting but minor diversion. There are few ceramic artists in the Bitossi lineage. The family concerns have always been centered on supplying the ceramics industry with the necessary ingredients for the production of ceramic items. These include the raw clay, the glazes and the tools. Today, the family owns the world's largest supplier of these ingredients- Gruppo Colorobbia.
http://www.colorobbia.com/lang1/
The Early History
Guido Bitossi founded Manifattura Cavaliere Bitossi e Figlia (Manufacturer Sir Bitossi and Sons) in 1921 in Montelupo Fiorentino, a municipality of Florence. The family had been involved in making roof tiles for centuries and the 1921 enterprise was geared to continue making these roof tiles plus floor tiles, everyday household ceramic items and some art pottery. In 1937 the management of the company was given to Guido's sons, Mario, Marcello and Vittoriano.
During the Second World War the Bitossi factory was miraculously spared from the destruction inflicted on the other local companies by Allied bombs. In order to remain in operation Bitossi was forced to begin producing their own ceramic glazes, frits and colors. When the war ended Bitossi began supplying the entire region with Bitossi-made glazes and frits. By 1947 this developed into the establishment of a separate Bitossi-owned company originally called Della Robbia Ceramica Colorificio and later changed to Colorobbia.
During this early period of 1921 and the 1950's Bitossi ceramics used the painted mark of a capital letter "B" followed by a period or sometimes an underscored Capital letter "B" with or without a period.
Here we have a rare and original pair of George Nelson Side Drink Meridian Tables from the 1950's made for Raymor.
These tables were being sold on ebay in March of 2009. The ceramic tops were produced by Bitossi. The "B." can be seen in the markings on the underside of the table. The Meridian line also included the very desirable clocks by Nelson. The ceramic clock faces were also produced by Bitossi and should reveal the same Bitossi mark on originals. George Nelson Meridian clocks are currently being reproduced and are often sold as originals so be careful.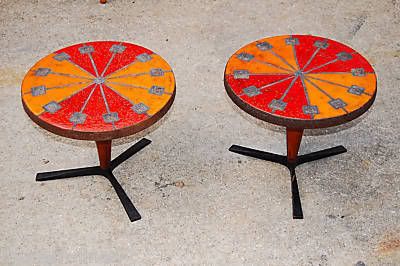 1960 Through 1975
In 1960 Bitossi began to use both the impressed word "Bitossi" and the printed word "Bitossi" to identify their products.
Ceramica Bitossi came of age when, in 1946, the company promoted Aldo Londi to the office of Artistic Director. Londi had been with Bitossi since 1935 and had worked for Fratelli Fanciullacci prior to joining Bitossi. This period of growth is fairly well known and there is no need to repeat it here.
By the late1950's Ceramiche Bitossi was considered just one small member of a large corporation, Gruppo Colorobbia, and the majority of the family's fortune was concentrated in this huge consortium whose holding include mines, processing plants and manufacturing facilities around the world.
Printed Mark 1960-1976. also impressed mark used in the same period
1976 Through 2000
According to an email I received from Mr. Giampaolo Monti of Ceramichi Bitossi, beginning in 1976 and ending in the year 2000 all ceramic pieces were marked "Flavia" and the Bitossi name no longer appeared on the underside of any pieces.
I do not believe that this is entirely true. Here, for example, piece dated 1996 bearing the Bitossi name.
Here is another example dating from the 90's. Signature pieces are still produced by Bitossi today.
If one searches the internet for Bitossi the inquiry will lead to Flavia (
http://www.flavia.it/
) where the site states "Bitossi By Flavia".
Digging a little deeper we discover that Bitossi and Flavia are two different companies owned by the parent corporation of Gruppo Colorobbia. Headquarters for both Flavia Manifattura Ceramiche Artistiche, srl and Bitossi Manifattura Ceramiche Artistiche, srl are located at the same address, 16 Via Gramsci Antonio in Montelupo Fiorentino and both companies share the same telephone number, 0571-51403. These individual companies are limited liability partnerships (SRL). Flavia, it turns out, once represented various lines of decorative accessories for the home.
What is important for collectors to bear in mind is that all items that show the Ceramiche Bitossi mark, with or without the addition of the Flavia name, are the tangible results sprung from the creative minds of some of the 20th century's greatest designers. Furthermore, all examples are hand made and hand decorated by artisans. These items are not mass-produced. Wheel thrown, hand made, hand decorated pottery is always individualistic and imperfect. It is these factors that makes Bitossi so desirable and collectible.

Here is a nice example of a marked Flavia vase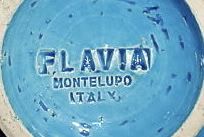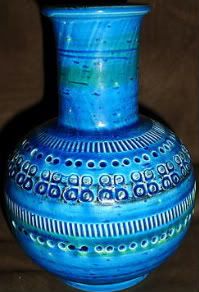 2001 To Current
Current Mark
Beginning in 2001 Bitossi reverted back to identifying their products with the "Bitossi" impressed name and the addition of the Bitossi family crest.
Signature pieces still bear the designer's signature and the words "Bitossi-Montelupo.
Unmarked Bitossi/Flavia
There are a number of reasons that Bitossi/Flavia would release unmarked examples.
Quite often large and important importers would request that the manufacturer's name was omitted so that consumers would not be able to obtain them elsewhere. This was, and still is, quite common and it is the reason that so much Italian pottery goes unidentified.
Sometimes importers may actually own the design rights to a line of ceramics. Raymor comes to mind as a good example. Owning the design rights allows the importer to contract with any company or number of companies to produce the wares. An importer may have two or more factories producing his line. This would ensure a constant, uninterrupted supply should one factory experience a worker's strike (a common event in post-war Italy), equipment failure or other unforeseen event. Preventing the manufacturer from revealing his name on the underside of a piece allows the importer to provide the consumer with a sense of continuity and in believing that a particular design line was created by one company.
Pieces impressed with the "Made In Italy" and "Italy" marks as illustrated but without the Flavia name may also be Flavia items that did not pass quality inspection and were sold as seconds. All these possibilities probably occurred to some degree and resulted in all the confusion that exists today.
I believe that these pieces are all impressed simply with the word "Italy" or the term 'Made In Italy" inside a cartouche, although some early examples seem to lack the cartouche. They are stamped in capital block letters and of the style illustrated here.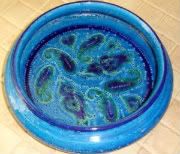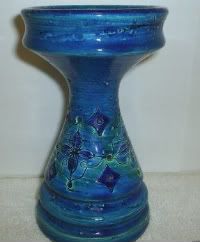 The example below is Not a Bitossi or Flavia piece as recently advertised on an internet auction. Note the absolutely flat, unglazed underside. This was not the manner that Bitossi or Flavia used to finish their work. It is a quick and inexpensive manufacturing shortcut and not worthy of the Bitossi artists.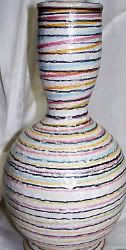 Of course, all of this is somewhat simplified. I am sure that not all early Bitossi pieces left the studio with the letter B and a dot or underscore. Ceramiche Bitossi readily admits that many pieces left their factory without the Bitossi or Flavia mark.
Modern Mid-Century pieces by Bitossi and marked as so, whether they are re-issues or not, are collectible and relatively expensive. Such pieces, whether created by Londi, Fornasetti, Sottsass, Rashid or other great 20th century designers, are works of art. Consider these objects in a category all their own.
Items not clearly identified by any of the marks shown in this article are suspect. Bitossi and its sister companies produced thousands of unmarked pieces for exporters and importers. After all, the Bitossi family was not going to turn their backs on a profitable venture. I would not, however, be prepared to spend a large sum of hard earned money on pieces claiming to be authentic Bitossi without substantial documentation and to that end Ceramiche Bitossi is willing to help the collector. If you forward a photo to the company they will be able to authentic the piece for you.
The current catalog for "Bitossi By Flavia" is available at
http://www.shopstyle.com/browse/Bitossi
. Prices range from $20.00 to $1,000.00. Many of these current products, especially those from the "Rimini Blu" line have been in constant production for the last fifty years.
Update - 05.05.2010-
I recently discovered this wonderful duck being auctioned on ebay. It was designed by Aldo Londi in 1953 and finished in the famous Rimini Blu glaze. It does not bear the impressed Bitossi mark but rather the handwritten underscored capital "B". The underscore is barely visible. The attached Raymor label marked with the Bitossi company code of "BIT" adds verification to its age and authenticity. The beautiful photos are shown with permission of the photographer, Hamilton McQueen.
This article has been revised June 2014
Walter Del Pellegrino