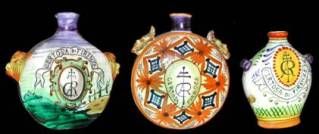 The word Certosa can be translated as "Charterhouse". The use of the term Certosa is specific to the monasteries of the Carthusian order of monks established by Saint Bruno in 1084 in the Chartreuse Mountains of the French Alps. In Italy there were a number of Carthusian monasteries established in various areas of the country. The largest was built in Florence (Firenze). Others were located in Pavia, Naples (Certosa di San Martino) and Siena (Certosa di Maggiano).The Certosa di Firenze, officially known as Certosa di Galluzzo, was constructed in the mid 14th century. Although a small number of monks remains within its walls it is now a major tourist site and I am sure you will be able to find articles about its fascinating history on the internet. Most of the certosa are maintained by cultural institutions except for Certosa di Maggiano in Siena which is now a hotel.
The Carthusian monks, now a nearly forgotten order on the edge of extinction, are famous around the world for their liqueur known as "Chartreuse" created in the early 1700's. Its ingredients remain a secret to this day and are known only to two monks of the order. It is this liqueur, with slight regional differences in the ingredients of herbs, flowers and roots used by the Italian monks, that was sold in order to help keep the monasteries financially solvent. In the 19th century some of the monasteries branched out into the production of perfumes made from natural ingredients. As an outgrowth of this business venture each certosa opened a gift shop for tourists where additional items, candlesticks. plates and cups were sold. I have seen dozens of these items over the years, however, it is the bottles shaped like Pilgrim's flasks and decorated in the Renaissance style of Grottesche (Raffaellesco) that still garner the most attention. I have seen these items bearing the maker's marks of some of the most important pottery studios in Italy. These include Salvini, Cantagalli, Colonnata, Fantechi and Fanciullacci.
Ebay seems like a rather good place to discover examples of the Pilgrim Flasks. Prices seem to vary between $30 and $100 regardless of age or manufacturer. A shelf containing several examples of these containers is rather impressive and will certainly attract attention.
Walter Del Pellegrino